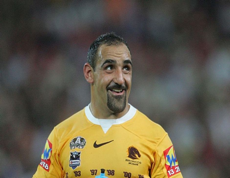 Tonie Carroll
It was simply not fair that The Telegraph's Phil Rothfield (no oil painting himself) named Tonie Carroll as one of the League's 10 ugliest men. As Rothfield so ungraciously put it, "Tonie's jaw was last seen digging foundations for the Gold Coast properties he now sells".
Tonie would barely make it into a top 20 ugliest players, in our reckoning.
Besides, the NRL is no beauty contest!
Tunza was a barnstorming, New Zealand-born centre/lock. He put fear into the opposition. Over the years, heaps of players subtly changed direction when they looked up and saw Tunza bearing down on them! When he was in the mood he was unstoppable, rated one of the strongest players in the NRL. He was a natural!
Carroll retired from playing in 2009 and was working in real estate when he made a comeback after seeing the Broncos hit with injuries and poor performances and all the old skills were still on show.
To show what a talent he is, Tunza is now turning his hand to baseball and is so serious about his comeback, he wants to go all the way to the Australian Baseball League and represent the Brisbane Bandits. Amazingly, it is 36-year-old Carroll's first year back in the sport since representing Queensland at under-17 level.
"I've had four shoulder reconstructions, so my throwing isn't what it used to be. But I just love hitting the ball."
Just as he loved hitting opponents!
Tunza is a likeable bloke with a big personality. Come along and see just how wrong Phil Rothfield was!
Download Full Bio