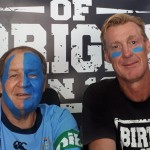 Tommy & JK Show – The 40th Anniversary of the Birth of Origin
The bell has gone at the end of the third round, and Tommy Terrific Cattledog Terminator Raudonikis has won all 3 rounds. Lost a testicle and vocal chord in the battles, but he's a winner. Not only does this man have some of the greatest Rugby League stories (many about Artie) you'll ever hear but he's got plenty more about overcoming Cancer for the third time. Third time! That's why he has another new nickname – Terminator – as you can't shut this bloke down, he's indestructible!
Tommy is ready to hit the speaking circuit again after a 2 year hiatus, and he's teamed up with his mate JK the MC to put together a great show that will keep your audiences entertained and amazed. Doing nothing in halves (except playing for Australia for 10 years) Tommy went on a test speaking run last December, all the way to Singapore!, and received a standing ovation at the Carbine Club lunch. He's ready and raring to go. Let's hope not too raring, as he's been known to bite blokes noses to get the upper hand!
All jokes aside (and left for the live events), Tommy is ready to hit the road again and its a honour to be able to spread the word about what will certainly be a room filling and great fundraising event. The show includes never seen before footage of Tommy, unreal work around the ruck and creating space, so now we understand where Joey got some of his moves!
If you'd like to book Tommy Terrific Cattledog Terminator Raudonikis and JKs fundraising show then please email justin@thekfaktor.com or contact JK on 0410 248 587 to make a booking.
When you book via The K Faktor You Get ALL Below (when JK is the MC/Comic/Auctioneer):
$3500+ possible Cashback and Savings comprised of –
$700+ = Proceeds of one signed and framed memorabilia item – donated by The K Faktor and Tommy
$1500+ = Table Bingo, Kerry's Quotes and Karma Keg receipts – based upon 120 people – instructions in the '2020 Club Fundraising Event and Sponsorship Guide'
$500+ = Extra you should charge the purchaser of the Head/VIP/Premium table to sit with a Legend
$300+ = Show poster artwork – please supply details and we will do this for you
$500+ = Proceeds over reserve on a Birth of Origin memorabilia item brought by the Legend
 What Else You Get –
Never seen before footage of Tommy, unreal work around the ruck and creating space, so now we understand where Joey got some of his moves!
800+ show MC/Comic/Auctioneer https://thekfaktor.com/jk-the-mc/
Supply of images and bios to help with press releases and promotions of your own
Ticket sales, bar proceeds, merchandise sales, TAB and pokies revenue, raffle proceeds and your other auction item returns
2020 Club Fundraising Event and Sponsorship Guide
Over the phone support from the day of booking up until the event – take advantage of over 25 years experience raising $25m+ for clubs and charities at over 1800 events
Lower reserves on the boys memorabilia items to ensure you make more on the day
Peace of mind booking through a reputable agency that has worked with over 100 sporting legends since 1999