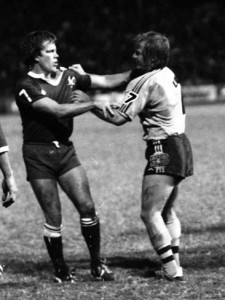 Greg Oliphant
Oliphant was no elephant on the footy field. He had explosive pace, but not even that could rescue Ollie from the occasional thrashing. Graham Wynn certainly caught up with him in the 1980 Origin match. And Tommy Raudonikis was always locked-in on Ollie like a Patriot missile on an incoming mortar.
Playing for Queensland against NSW in 1977, Oliphant felt the full wrath of 'Tom Terrific', who had been dropped to the reserve bench for the match. The tide of the game turned when Tommy came on to the field and singled out Ollie for specific attention – even belting him while Oliphant received attention for an injury!
Ollie and Tommy formed one of the legendary rivalries of the game. They even got into the ring against one another (a fundraiser for injured Balmain centre Dennis Bendall). Tommy claimed a TKO after opening a cut above Ollie's eye.
But Ollie gave a bit as well – never a cheap shot, though. "When I played you stood toe to toe and gave it and took it … there was none of that schoolyard pointing," Oliphant said.
Ollie is keen to give his eyewitness account of those great Origin battles. He may have lost a yard of pace, but he's no 'elephant in the room'!
Download Full Bio