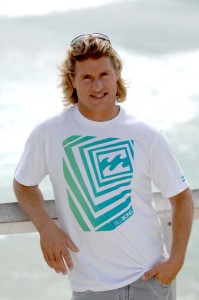 Mark Occhilupo
The sea is in Occy's blood. He began surfing at the age of nine and by his early teens was giving surfers twice his age, the 'oldies', plenty of stick. Occy won his first amateur Schoolboys contest at 13 and followed up with two Cadet State Titles. After Year 10, he left home to try out for a ranking with the Association of Surfing Professionals. Virtually unnoticed, he snuck into the Top 16 at year's end, securing a seed for the following year.
By 1984, Occy shot to the top of the ASP ratings as a cocky 17-year-old and set performance standards over the next few years that still haven't been matched.
But then the young, aggressive surfer – nicknamed 'The Raging Bull' – faded away from the '80s spotlight and into a more subdued existence for a number of years.
The name Occhilupo means 'eyes of a wolf' and the time away from the sport gave Occy a clearer vision of his goal: to dominate the world circuit. In 1995, he re-entered the surfing arena, proving he could still capture a title. With some major wins under his comeback belt, Occy stunned the surfing world by capturing the world title in 1999 at the age of 33.
Occy still shows his stuff occasionally on the waves. But these days, he's the 'oldie' giving the young fellas plenty of stick!
Download Full Bio