Joe Bugner
Sony Liston once said: 'A boxing match is like a cowboy movie. There's got to be good guys and there's got to be bad guys. And that's what people pay for – to see the bad guys get beat.'
Joe Bugner was (and still is) one of the good guys. A member of the Australian National Boxing Hall of Fame, he is an undefeated WBF World Heavyweight Champion and held the British, Commonwealth and European titles for 9 consecutive years. He stepped into the ring with the greats, including Muhammad Ali (twice), Joe Frazier, Henry Cooper and Frank Bruno. Aussie Joe won an incredible 83% of his fights.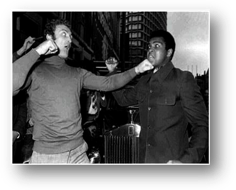 "It's just a job. Grass grows, birds fly, waves pound the sand. I beat people up." Muhammad Ali
But not Aussie Joe! The only man to have gone the distance twice with the great Ali, Joe Bugner could beat people up too. 41 of his victories were by knockout, 24 of them inside three rounds!
Aussie Joe has plenty to tell about the halcyon days of the fight game. He'll also say one or two things about the movie-world and some of its stars. A very interesting life!
Download Full Bio