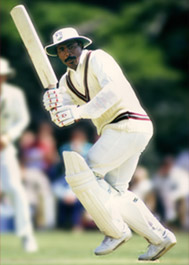 Gordon Greenidge
Gordon Greenidge is cricketing nobility. He was half of the West Indies prolific opening partnership with Desmond Haynes and still today people speak in awe of his brilliance.
Attacking was in his genes! Brooding and massively destructive, the power of Gordon Greenidge's strokeplay on any given day appeared to bear a direct relationship to the degree that he limped when running between the wickets. In such a mood, he didn't run much anyway, clouting the ball to and over the fence with abandon.
The best example of how Greenidge could murder an attack came at Lords in 1984. The Windies had been set an imposing 342 by England to win (a feat thought impossible). Gordon started steadily but not flamboyantly and by lunch the West Indies were 1 for 82. By tea, England had tried all its bowlers and was tiring but the run chase was still daunting. That's when Greenidge struck! With scarcely a blink, Gordon strode past his century and continued his awesome assault. Seldom had any attack been so brutally torn to pieces. Gordon was unbeaten on 214 when England's white flag was raised. The Windies had won the unwinnable.
Gordon made another double century in that series just to prove Lords was no fluke!
Gordon loves to reminisce about the great days of West Indies cricket. It's not every day you can meet cricketing nobility.
Download Full Bio