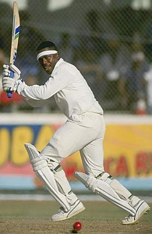 Desmond Haynes
What Ambrose and Walsh were to bowling, Haynes and Greenidge were to batting – simply a sublime opening pair that savaged bowling attacks for a decade.
It was in 1978 that Desmond Haynes catapulted himself into the cricket annals of all time. In February 1978, on his One Day International debut for the West Indies, Haynes took to the field against Australia at Antigua's Recreation Ground. With nerves of steel and a steady hand, Haynes roared through to a majestic 148 off 136 balls. The 'Lion of Barbados' had his claws firmly fixed on the record books
But it was not just the runs he scored in his career; it was the way in which he scored them. Never slowly and always most attractively, without a slog in sight, Desmond often looked like he might never get out. His cover driving, a combination of timing and barely evident power, remained in the mind's eye as a particular adornment of his batting.
Desmond gathered 55 Man of the Match awards in his time and was a Wisden Cricketer of the Year in 1991. In fact, he did just about everything you can do in cricket, being one of the few Test batsman to have been dismissed 'Handled the Ball' against India. But it was the way he handled the bowlers that will be remembered when old blokes sit around in the future and argue over who was the best.
Download Full Bio