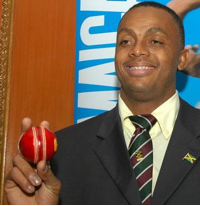 Courtney Walsh
Courtney Walsh's first claim to fame came in 1979 when he took all 10 wickets in an innings in a school game. Not long after, he made his Test debut against Australia in Perth, launching a career that was to flourish, eventually tallying 519 wickets at 24.44 and becoming arguably the best fast bowler the world has ever seen.
When many of today's fast bowlers are breaking down or having to rest after a couple of tests, Courtney just kept rolling in and sending down unplayable balls. As they fizzed passed the batsman's ears like bullets, Walsh would finish his follow through with a caustic scowl designed to crush the spirit!
Courtney Walsh probably bowled faster for longer than any man in history. As he cantered effortlessly to the crease, there was little to suggest that a thunderbolt was on its way. But as he reached the end of his run, he would arch his back and launch the red missile.
Courtney seemed to be master of the cricket field, except when it was his turn to have a bat in his hands. 43 Test ducks suggest that he was a bunny, but usually his team were not relying on runs from him – he and his 'partner in crime' Curtly Ambrose, had already put the match in the Windies' control.
Now Courtney is retired. "I have the odd ache and pain but the knees are holding up, the back is OK and the shoulders don't hurt too much." This from a guy who ran more than 1500km in first class games to wreck batsman's reputations and team's records.
He loves talking about the game and meeting fellow cricket 'tragics'. These days, it's safe for an Aussie to meet up with Courtney Walsh!
Download Full Bio