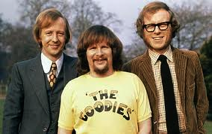 Bill Oddie
Whose first records were produced by George Martin (of Beatles fame), and who had two singles banned by the BBC? Who earned rave reviews on Broadway for his dancing? Who has been called 'Britain's best-known birdwatcher?' Who has written an autobiography that is as witty, candid and unconventional as the man himself? Who rode on the back seat of the Goodies' tandem?
The answer to all of the above is Bill Oddie.
It's a bit hard to do justice to this wonderful talent, because Bill has done and continues to do just about EVERYTHING! He's worked with John Cleese, Michael Palin and Eric Idle, hosted 23 Nature programs for the BBC, plays guitar, drums and saxophone, has featured on 'This is Your Life', 'Who Do You Think You Are?' and 'Who Wants to be a Millionaire' and was a guest on Jamie Oliver! Then, of course, there's The Goodies!
Download Full Bio
"Goodies … goody goody yum yum!"
As his official website says, Bill Oddie is a birdwatcher, broadcaster, actor, television presenter, writer, song-writer, musician, conservationist and much more …
A fascinating talent, sheer genius!