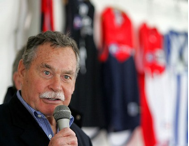 Ronald Dale Barassi
Ron Barassi has been the face – and voice – of AFL for decades. He's coached some of the biggest names and greatest characters the game has ever seen and left his mark not only on the four clubs he led, but the game itself.
These days Ron is a much sought-after celebrity speaker. He doesn't need to tell tall tales – his anecdotes about fellows like 'Slammin' Sammy Kekovich, Mick 'the Galloping Gasometer' Nolan and Malcolm 'Blighty' Blight are as true as they are amazing.
To get a taste, here's Ron in his heyday with the North Melbourne boys!
Ron's done just about everything – coached Premierships, trekked Kokoda, and even walked on water (remember his starring role in the Melbourne Commonwealth Games baton relay)!
Above all, Ron's a good bloke. He'll entertain and amuse your audience with his fascinating stories; sign autographs; happily mingle with your guests after the show; and leave a lasting impression on everyone. Your crowd will love him!
(By the way, 31 is his famous jumper number and 17410 is "seventeen Grand Finals for ten Premierships")
Download Full Bio