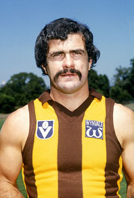 Leigh Matthews
Faster than a speeding bullet; more powerful than a locomotive; able to smash tall point posts with a single bump! Well, maybe not the first two, but 'Lethal' Leigh Matthews did snap a point post in half at Windy Hill on one cold winter's day!
Officially recognized by the AFL as the "best player of the 20th century", Leigh booted over 900 goals as a rover/forward for Hawthorn and starred in a team that won four flags in the 70's and 80's.
Barrel-chested and close to the ground, the fearless Matthews earned his nickname due to his fanatical attack on the ball and (occasionally) the man. He dished out some famous bruising bumps (Barry Cable, Neville Bruns, point post) and was on the end of plenty too. But nothing, short of a Sherman tank, was ever going to put 'Lethal' out of the game.
Leigh is also renowned as one of the League's best-ever coaches with 4 Premierships under his belt, one at Collingwood and the miraculous 'threepeat' at Brisbane. Testament to his coaching ability, each team was a basket case when he took over; Collingwood suffered the notorious 'Colliwobbles' whenever they got near a Grand Final, while Brisbane had been arguably the worst side in the competition for the previous 15 years.
These days, Leigh is a highly-respected commentator and writer. An official Legend of Australian Sport, he's a straight shooter who will enthrall audiences with tales of snapping posts with his bare hands and other Superhuman deeds from his brilliant career!
Download Full Bio