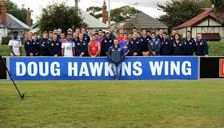 Doug Hawkins
Not too many players can say they've got part of a football oval named after them, but out in AFL stronghold Footscray, you'll find the 'Doug Hawkins Wing' at Whitten Oval. This was Hawkins' patch of ground, which he patrolled with the same air of ownership as a police officer on the beat, and where the Hawk had a knack of making the spectacular look like second nature. He retired in 1995 after a record-breaking 329 games for Footscray and 21 for the Lions.
Doug maintains an active involvement in the game as a coach in country Victoria. Off the field, Hawkins is known as an old-fashioned Aussie larrikin, someone who acknowledges he is not one of the smartest people going around, but is always up for a laugh. Aside from his occasional mangling of the Queen's English, Doug is an accomplished speaker and entertainer with a bag-full of jokes and stories.
Get some Hawk on your Fork at your next function.
Download Full Bio