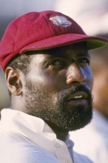 Sir Vivian Richards
Viv Richards was notorious for punishing bowlers that dared to sledge him. So much so, that many opposing captains banned their players from the practice. However, in a county game bowler Greg Thomas attempted to sledge him after he had played and missed at an outswinger. He informed Richards: "It's red, round and weighs about five ounces, in case you were wondering." Richards hammered the next delivery out of the ground and into a nearby river. Turning to the bowler, he commented: "Greg, you know what it looks like, now go and find it!"
If Australia's Mike Hussey is Mr Cricket, then Viv must be King Cricket. No helmet, no fear and whack!
There's not a team in the world that hasn't been completely dismantled by a Richard's onslaught at some time. But it's hard to go past his ton against England at St John's in 1986, the fastest ever in test history (56 balls). It was carnage – no test attack had been treated with such brutal yet joyous contempt!
Viv gives it a bit of a belt off-field as well. Never shy of giving his opinion on players and the state of the game, Viv can hold an audience spellbound with his commentary and reminiscence. He was the greatest in the greatest era of cricket: don't miss the opportunity to have Sir Vivian Richards, the Master Blaster, grace your stage.
"Great Man! Very humble and gracious to all."
Download Full Bio