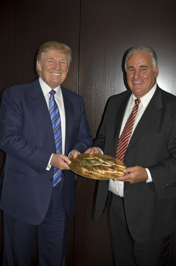 Sam Kekovich – The Official Page of the Lambassador
A naturally gifted entertainer, Slammin' Sam Kekovich brings a wonderfully satirical, irreverent and hard-hitting brand of humour to any occasion. His lively presentations draw on all his experiences and the characters he has encountered over the last 30 plus years of his involvement in football and life. He delivers guaranteed laughs and edge-of-your-seat stories.
All the bluff and bluster sometimes hides the fact that Sam was a damn good footballer. He started his senior career with the Kangaroos in 1968 and the following year was the top goalkicker with 56 goals and won the club's best and fairest award. Sam played a key role in the club's first premiership win in 1975 as second ruckman, contesting boundary throw-ins, in which he won most of the hit outs against Hawthorn's top player, Don Scott.
He has carried on his flamboyant style into the media sector, being most notable for his rants on the ABC show The Fat, 3AK radio breakfast show, Melbourne Sports Radio Station SEN 1116, Triple M's pre-match AFL coverage, pti (pardon the interuption) Australia on ESPN, The Footy Shows and Warnie's Show!
Kekovich's direct-to-camera TV monologues are done deadpan and use wide-ranging cultural references. They normally place in contrast many disparate or incongruous verbal images and ideas, ending with him saying his trademark, "You know it makes sense. I'm Sam Kekovich." He has performed these 'rants' on commercials most famously, encouraging people to act less 'unAustralian' on Australia Day by eating lamb.
But where Sam has really excelled the past 20 years is with his onstage performances as either a keynote entertainer or event MC. Sam is in very high demand and is asked to come back year after year by the same clients keen to get their 'fix' of Sam Kekovich. You Know that makes Sense!
"Sam was Great! He was happy to have a chat with anyone – he really appealed to such a broad crowd – everyone thought he was great! He was humorous, interesting and his stories were just fantastic; he really calls a spade a spade. I think it would have to be one of the best shows we have had!"
Get Sam on board for your next function – "You know it makes sense!"
Download Full Bio