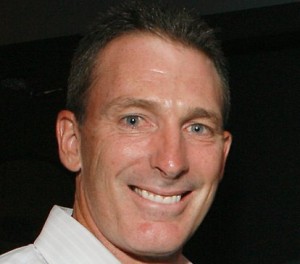 Damien Fleming
Flem is one of only three bowlers to have taken a hat-trick on Test debut (against Pakistan). This auspicious start to a career should have meant a long stay at the bowling mark, but injuries, caused in part by his energetic action, saw Flem play just 20 Tests.
His career best figures of 5/31 came against India at Adelaide in December 1999. If not for Shane Warne spilling a relatively simple slips catch, Flem would have claimed a second hat-trick. In ODI's he became a last over specialist, the so-called 'death bowler', and his heroics against South Africa in a World Cup semi-final saw Australia home with two balls to spare.
Since retirement, Flem has coached young bowlers and become a recognized expert (at least by himself) in the art of swing bowling. The Bowlologist often waxes eloquently on the art of swing during his many commentary stints on radio and TV.
Today, Fleming is a popular figure on the public speaking circuit, where he is regularly asked questions about the catch that Shane Warne dropped! You can ask, too!
Download Full Bio