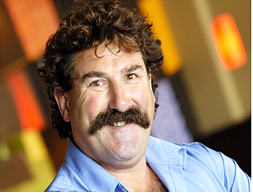 Robert DiPierdomenico
There's tough and then there's TOUGH. In the first quarter of the '89 Grand Final, DiPierdomenico was running backwards to take a mark when he was met solidly from behind by Geelong's Gary Ablett Snr. With the stuffing knocked out of him, 'Dipper' looked gone as he struggled to regain his feet. But swatting away trainers, he played on despite the immense pain and unaware of the extent of the damage. Typically, 'Dipper' was among Hawthorn's best players and also got reported. Collapsing shortly after the game, he was rushed to hospital.
'Dipper' had played almost the entire Grand Final with several broken ribs and a punctured lung!
An 'unfashionable' (read ugly) footballer, Dipper was nonetheless highly effective as a tough, no-nonsense ball-winner, so much so that he won the Brownlow Medal in 1986. This was is no small measure due to avoiding the Tribunal that year, for 'Dipper' was something of a regular there. But he wasn't a dirty player – just tough and often got as good as he gave.
These days, his always smiling and jovial personality make him an ideal guest speaker. He is Italy's greatest gift to the AFL – Robert DiPierdomenico.
"Robert was fantastic in mixing with all of the clients; he was very easy to talk to and could relate to everyone very well. He was knowledgeable and was very accessible. All of our clients have given him rave reviews"
Download Full Bio